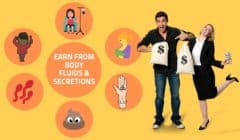 8 Surprisingly Legal Ways To Make Money With Your Body
Making money with your body can seem like an alarming prospect at first, but there are in fact a variety of admittedly unusual ways you can turn your physical assets into some extra cash. All of the methods listed below are completely legal and range from offering your body for science research to standing in line for someone else.
Participate in Research Studies
With medical research always on the rise, there's always a wealth of opportunities for both healthy and ill individuals to get involved in medical studies. Some of these research studies don't pay much in the way of compensation, but there are often other advantages such as free health care, travel expenses and treatments that can be beneficial.
Be a Human Guinea Pig
Similar to participating in research studies, becoming a human guinea pig involves testing out potential medications and treatments. These sorts of experiments often pay more due to the risk involved, with additional benefits being provided such as health insurance, meals and travel expenses. Participating in these activities typically requires you to stay in a clinic for a certain amount of time.
Turn Yourself Into a Living Statue
Although it might not be the most common way to make money with your body, turning yourself into a living statue or mime can be a fun and easy way to make money in high trafficked areas. You'll need to dress up in a costume and apply some special makeup to your face, but after that you're all set to start entertaining passers-by for cash.
Get Paid for Donating Plasma and Blood
Saving lives and making money? That's always a win-win situation. Donating plasma, or pheresis, requires you to donate one pint of your blood and then have your plasma extracted. You can do this twice a week, making it a rather easy and relatively painless way to make money with your body.
Rent Your Body Out to Line Standers
This is an interesting way to make money with your body if you don't mind standing in line for someone else. Whether it's for concert tickets, a new iphone or anything else, line standing services act as a middleman in exchange for paying you for your time. You can also rent out other body parts, such as advertising tattoo space, companies willing to pay you to have them printed on your forehead etc.
Sell and Donate Hair
If you have hair that's at least eight inches in length, you can donate it to a charitable organization such as the Locks of Love where it'll be used to make wigs for children suffering from hair loss due to chemotherapy treatments. Alternatively, you can also sell your hair and make some extra cash.
Become an Egg/Sperm Donor
If you're looking to make money and do something life-changing, becoming an egg or sperm donor is definitely the way to go. Most fertility centers pay between $5000 to $10,000 for a successful match. However, the process does require a series of medical screenings, thorough background checks and a history review.
FAQ
What Are Some Surprising Ways To Make Money With Our Body?
Some surprising legal ways to make money with our body include participating in research studies, being a human guinea pig, turning yourself into a living statue, getting paid for donating plasma and blood, renting our body out to line standers, selling and donating hair and becoming an egg/sperm donor.
Are There any Risks Involved in Making Money With Our Body?
Yes, some of the activities listed above often come with potential risks. For example, research studies, human guinea pig testing and donating plasma and blood may expose you to certain medications and treatments with potential side effects. It is thus important to always research the activity you are signing up for and understand the risks associated with it.
If you are looking for 8 Surprisingly Legal Ways To Make Money with Your Body you've visit to the right web. We have 5 Images about 8 Surprisingly Legal Ways To Make Money with Your Body like How To Make Money With Your Body Online – Smarter Rabbit Blog! and also Pin on Side Jobs. Here it is: